Specializing in steel fabrication, welding, and design.
Welcome!
At PWC Industries, old-fashioned ideas means a lot to us--like standing behind our word, being committed to quality, setting high standards, and believing we can help our customers 'make things happen'. These old-fashioned ideas have allowed us to grow and serve our customers for over 35 years.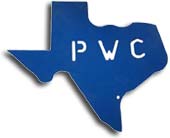 PWC Industries steel fabrication designers, welders, and fabricators specialize in the manufacture of high quality metering and proving systems, ASME pressure vessels, holding and transport tanks, custom hoppers, process and power piping, meter runs, sand traps, scrubbers, separators, launchers, receivers, module systems and custom skids. Our success is borne of an obligation to our customers to provide quality service in our products. Quality, safety and timely deliveries is something that we are built upon.
Personnel
Welding is more than just a job; it gets in your blood. Weld long enough, cut yourself, and you'll bleed flux!. -- Author Unknown
About Us
Incorporated in 1979 with the objective of providing a variety of products and service for the Petrochemical Industry.